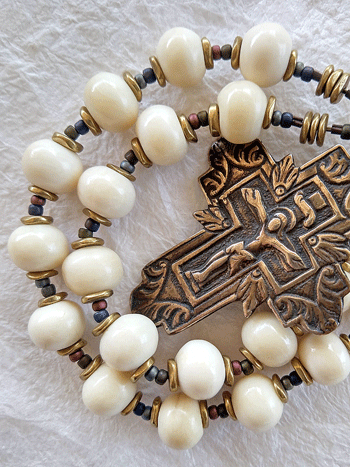 Logos - Bone - 33 Bead
"In the beginning was the Word,
and the Word was with God,
and the Word was God."
— John 1:1

Logos... the Word thought-of, and the Word uttered..."the true Light which, coming into the World, enlightens every man."
- John 1:9

The very large, very substantial crucifix of this prayer rope is cast from a 19c Russian antique, in solid bronze.

The number of the prayer beads — 33 — is a celebration of the incarnation, and symbolizes the number of years of Jesus' life on earth.

The pleasantly large prayer beads are handmade of white bone. Among these are beads of bright brass, and beads of matte glass in a variety of subtle colors — mauves, blue-grays, and olives.

Crucifix: 2.5"
Prayer Beads: about 12mm wide
Length: 14"
Weight: 3 oz.
sold out
The connecting rings are heavy gauge solid copper and bronze.

The prayer rope is strung on premium quality Soft Flex jewelers' cable, composed of 49 strands of plied steel encased in nylon, with a test-strength of 26 pounds; each end is double-crimped for security.