All Weather - variation 2 - Picasso Jasper and Bone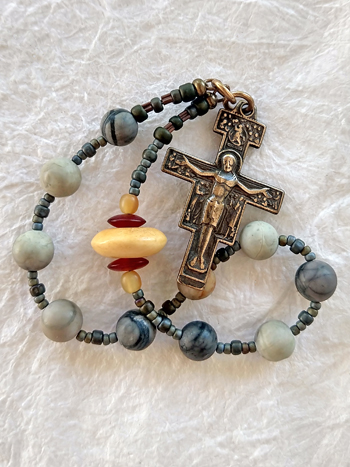 All Weather - variation 2 - Picasso Jasper and Bone
"Praised be my Lord for our Brother Wind, and for air and cloud, calms and all weather..."
— Saint Francis of Assisi, from "The Canticle of Brother Sun"

The San Damiano crucifix of this chaplet handcast from a vintage Italian original. Saint Francis of Assisi meditated upon a crucifix of this style. On the reverse of the crucifix, in Latin, are the words of the blessing Saint Francis gave to Friar Leo (from Numbers 6: 24-26), along with the Tau cross — the cross Saint Francis used as a signature. The crucifix is marked "Assisi." It is solid bronze.
The Ave beads are matte picasso stone in many shades of gray, separated by beads of matte glass.
The Pater bead is smooth old vintage bone, in combination with beads of red and golden horn.
Crucifix: 1.6"
Pater bead: 16mm
Ave beads: 8mm
Length: about 6.25"
The connecting rings are solid bronze. The chaplet is strung on premium quality Soft Flex jewelers' cable, composed of 49 strands of steel encased in nylon, with a test strength of 26 pounds; each end is double-crimped for security.